How to locate your database
Guidance on how to locate your database on a new install or if they have gone missing.
(Guide for Pastel Sage Evolution Version 7, but other versions will loosely follow the same method).
Click on the 'Options' button to show more details.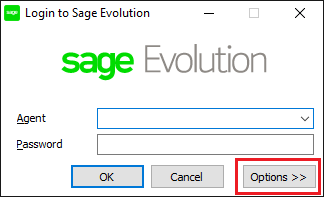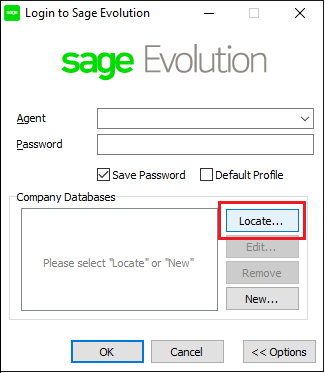 Select the SQL Server first of all and then specify the log in details for either Windows Not Authentication or SQL Server Authentication. If you are unsure of these log in details, please contact us or your Network Administrators.
Select the database from the drop down menu at the bottom and click on 'Next'.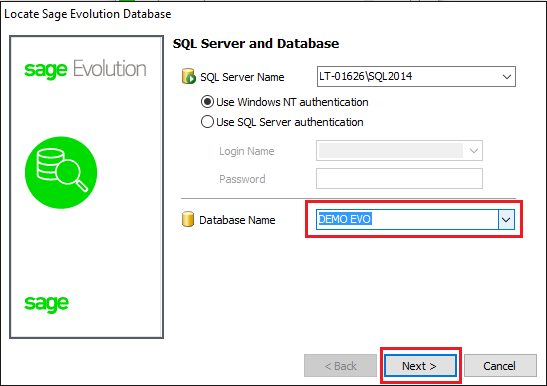 The common database is usually on the same server, so you can leave the option ticked for 'Use common database on the same server'. If your common database is in a different location, then untick this and specify the location the same way as before. When you have selected the correct option, click on 'Finish'.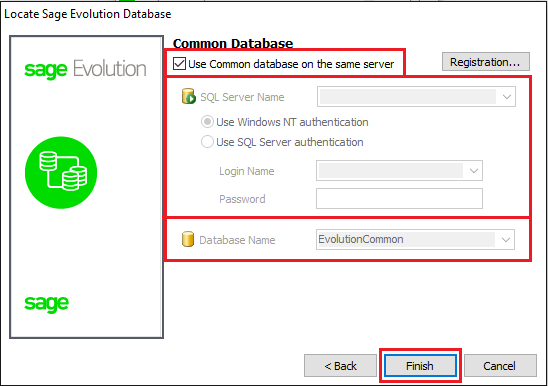 You can now select the database from the log in list, just put in your Agent name and Password to log in. Tick 'Save Password' if you want it to remember the password and tick 'Default Profile' if you want it to always login in automatically to this database with the Agent Name and password provided.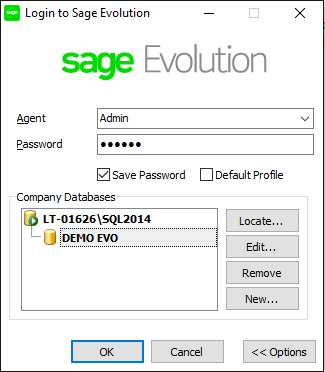 ---

---
Related Articles

Error Code 20 - Pervasive Engine is not running

If you get Error 20 when starting up Sage Pastel Partner or Xpress, then it means your Pervasive Database Engine is not running or is not licensed. There are a few things you can try to resolve this error. This is not in any order and any one of ...

Installing the Pervasive Workgroup Engine

Guidance on how to install your Pervasive Workgroup Engine. (Guide for Pastel Partner 14 and Windows 10, but older versions will loosely follow the same method and prior versions of Windows may be slightly different). Before you can install and use ...

Adding or Reactivating a Company

Guidance on how to add a company into your list of companies to log into (Guide for Sage50c Pastel Partner 19, but older versions will loosely follow the same method). If a company is not in the list when you open up Pastel Partner or Pastel Xpress, ...

Sage 50 Installation Guide

This is a guide for Sage 50 V22. If you are installing a previous version you may see something slightly different to what is in this guide. Once you have received a download file from us for Sage 50, you will first need to extract the contents from ...

Recovery Tools

This guide explains how to use the recovery tools, please do not use this unless you have been advised to do so by a support technician. Go to 'File > Maintenance'. Select the option for 'Recovery Tools'. You will need to make a backup first, select ...