Quantity on SO or PO is incorrect
Guidance on correcting your 'On Sales Order' and 'On Purchase Order' quantities.
(Guide for Pastel Partner 14, but older versions will loosely follow the same method).
Occasionally, you may find your stock levels for Sales Orders and Purchase Orders are not correct.
To correct these amounts, you need to run a Rebuild of the Batch Quantities. This checks all items on sales orders and on purchase orders, totals up the amounts and adjusts the 'On Sales Order / On Purchase Order' levels accordingly.
To do this process, you need to follow these steps:
Go to 'File > Data Integrity'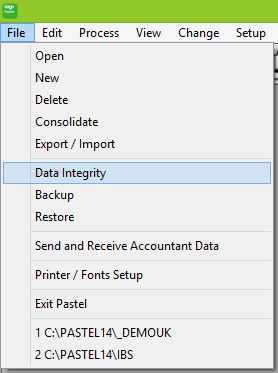 You will be prompted with a warning about backing up your data first, it is advisable to do a backup first as if there are any interruptions during this process, it can damage your data. When a backup has been done, click 'Next' to begin. For detailed assistance on how to backup your data Click Here.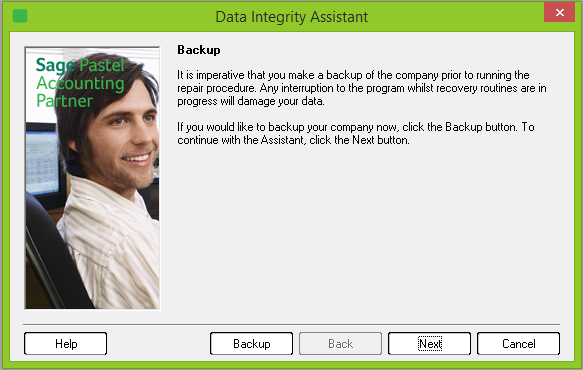 You now need to select the option for 'Rebuild Batch Quantities' and click 'Process'.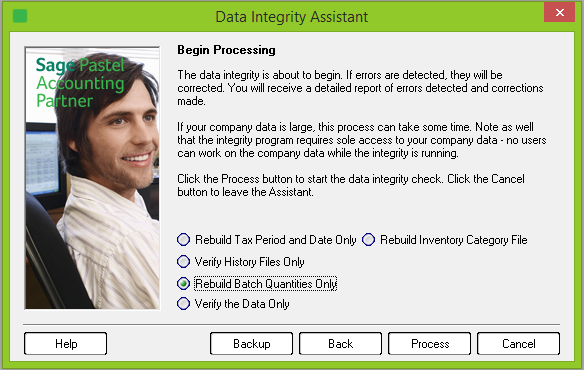 The next part can take a while depending on the size of your data and how many inventory items are in the data. Please be patient and wait for it to finish.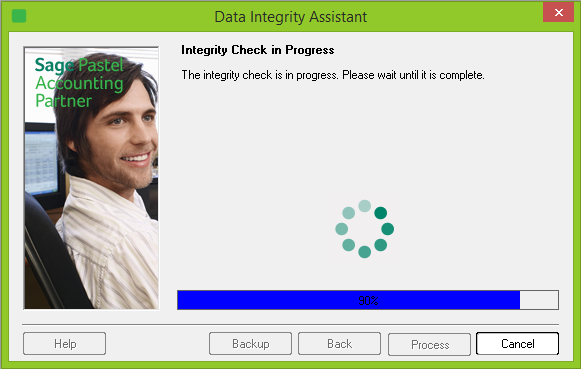 You will be notified when the process has completed, you should now have correct stock levels on Sales order and on Purchase Order.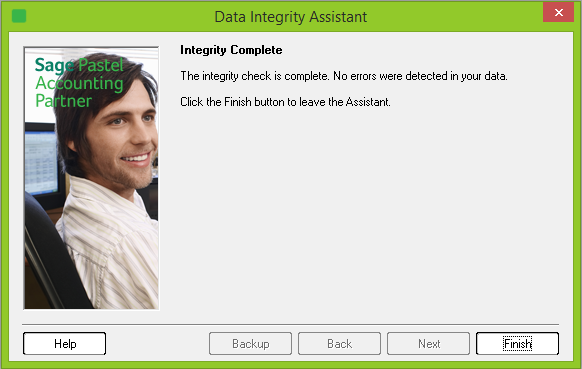 Related Articles

Print job sent to incorrect printer

If you have set your printer correctly in the Printer / Fonts setup, but the job goes to the incorrect printer, it may be that your Windows 10 settings are set to maintain the default printer. To correct this, follow the steps below. Click your ...

The document you are trying to print has an incorrect page size...

When printing an invoice or document, you may get the following error message: This is usually caused by the incorrect printer being setup. Sometimes if a printer fails on your machine it will default the setting to 'Microsoft XPS Document Writer' ...

Registering your Sage Pastel software as a Single User / Server

Guidance on how to register your Sage 50c Pastel software. (Guide for Sage 50c Pastel Partner 19, but older versions will loosely follow the same method). How to register as a Single User / Server machine: When you open up the software when it is ...

VAT Filer upload and submit

How to upload your VAT return figures and submit them with MTD [Click Here] to download this guide as a PDF file Before you can submit your VAT figures, you will need to prepare an excel sheet with your VAT totals for each box. Attached in this guide ...

Discrepancies between Inventory Control Account and Inventory Valuation

Discrepancies between Inventory Control Account and Inventory Valuation Differences between the Inventory Control Account and the Inventory Valuation Report will be the result of the following: Inventory being integrated into the General Ledger. ...