Runtime Error 46, 75 or 94 - Path/File Access Error / Permission Denied
Runtime errors 46, 75 or 94 are permissions error, it is not specific to Pastel and means the folder or drive cannot be accessed because your user account in Windows does not have permission to access it.
To resolve this, it is better to let your IT / Network administrators look into your permissions if you do not know how to set them yourself.
This needs to be done on both your server and any workstations Pastel is installed on.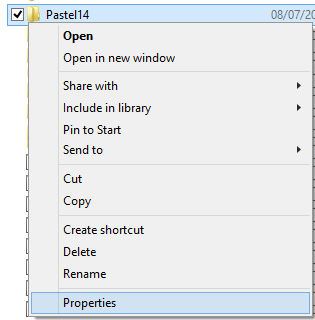 In the 'Security' tab, ensure all Pastel users are listed here with Full Control allowed. Click on Edit to add users and edit their permissions.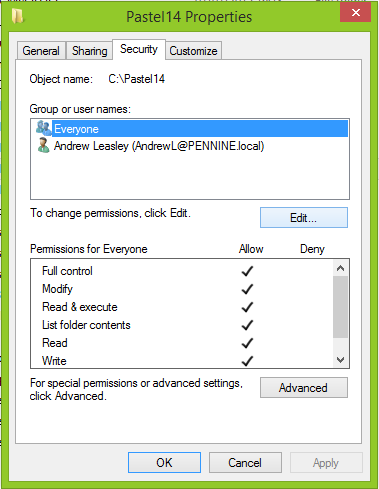 If there is still a problem after setting permissions on the Windows users, please try making exceptions on the Firewall or Anti Virus.
You can also try disabling Windows User Account Control (UAC) - a guide on how to do this can be found here:
http://windows.microsoft.com/en-gb/windows/turn-user-account-control-on-off#1TC=windows-7

Please note, if the Windows user is part of a group on the network, ensure that every group they are part of has full control as well and that there is not a group policy in place preventing access to the Pastel folders.

Related Articles

Error Code 20 - Pervasive Engine is not running

If you get Error 20 when starting up Sage Pastel Partner or Xpress, then it means your Pervasive Database Engine is not running or is not licensed. There are a few things you can try to resolve this error. This is not in any order and any one of ...

Error Code 18 - Disk Full

As you process transactions and create new accounts, your Pastel data folder will increase in size over time. If the drive you have Pastel stored on runs out of space you will get this error message. To resolve this, you simply have to clear some ...

Error Code 161 - Pervasive User Count License Exceeded

Error Code 161: Pervasive License Exceeded. This error code means you have reached your user limit on the license and an extra user is trying to log in (Example, you have a 5 user limit, 5 users are currently logged in - meaning the 6th user to try ...

Status 116 - There is a network communication error

Status 116 (There is a network communication error) This error means there was a problem communicating from your workstations Pervasive engine, to the Pervasive engine running on the server and can have many different causes. Please look through the ...

VAT Filer upload and submit

How to upload your VAT return figures and submit them with MTD Before you can submit your VAT figures, you will need to prepare an excel sheet with your VAT totals for each box. Attached in this guide is an excel file (see bottom of page or [Click ...