Status 116 - There is a network communication error
Status 116 (There is a network communication error)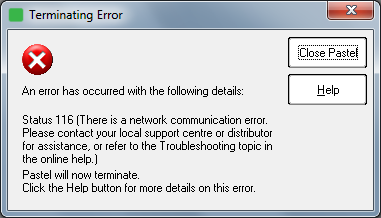 This error means there was a problem communicating from your workstations Pervasive engine, to the Pervasive engine running on the server and can have many different causes.
Please look through the following possible solutions to this error, which are not in any particular order and any one of them could resolve the issue.
Some of these solutions and suggestions may require your Network / IT Support to look into.
First, always ensure the connection to your server is valid by pinging the IP address on the workstation (You may need to ask your IT Support to test this).
If the connection is open to your server then try the following suggestions.
Ensure full control permissions are set on the Pastel directories on the workstation and server.
Ensure full control permissions are also set on the Pervasive directories on the workstation and server (C:\PVSW and C:\Program Files (x86)\Pervasive Software)
Ensure your antivirus is making an exception for the Pervasive Engine (C:\Program Files (x86)\Pervasive Software\PSQL\bin\w3dbsmgr.exe).
Allow the following Inbound and Outbound ports on the Firewall: 1583 and 3351
Disable the User Account Control (UAC) on the server and workstations.
Check that the mapped network drive on the workstation is connected and is not displaying a red X (if there is a red X, double click it to reconnect the drive).
On the server, set a gateway machine (Open the application from the following directory: C:\ProgramData\Microsoft\Windows\Start Menu\Programs\Pervasive\PSQL 10\Utilities)
Click the Change button and choose the server as the gateway.



Removing the gateway as seen above if one is already set may also solve the error.
Remove the HP Client Security, if it is running on the workstations.

Reinstall Pervasive on the affected machine(s).
Log all users out, then log in to Pastel partner on the affected machines one by one and re-register the software as it may be the license needs to be updated in Pervasive.
If none of the above work, please contact the support team for further assistance.

Related Articles

Runtime Error 46, 75 or 94 - Path/File Access Error / Permission Denied

Runtime errors 46, 75 or 94 are permissions error, it is not specific to Pastel and means the folder or drive cannot be accessed because your user account in Windows does not have permission to access it. To resolve this, it is better to let your IT ...

Error Code 161 - Pervasive User Count License Exceeded

Error Code 161: Pervasive License Exceeded. This error code means you have reached your user limit on the license and an extra user is trying to log in (Example, you have a 5 user limit, 5 users are currently logged in - meaning the 6th user to try ...

Error Code 18 - Disk Full

As you process transactions and create new accounts, your Pastel data folder will increase in size over time. If the drive you have Pastel stored on runs out of space you will get this error message. To resolve this, you simply have to clear some ...

Error Code 20 - Pervasive Engine is not running

If you get Error 20 when starting up Sage Pastel Partner or Xpress, then it means your Pervasive Database Engine is not running or is not licensed. There are a few things you can try to resolve this error. This is not in any order and any one of ...

Registering your Sage Pastel software as a Workstation

Guidance on how to register your Sage Pastel software. (Guide for Pastel Partner 14, but older versions will loosely follow the same method). Please ensure your registered machine / server has been registered prior to attempting registration of a ...